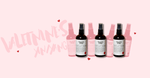 Yin Yang - Valentine's Day Release
We've got a special release just in time for Valentine's Day, Yin Yang Mist. 
Yin Yang is our newest member of the Magick Mists collection. It's a spicy, sensual mist based on ancient oils, making for the perfect gift to treat yourself and the one you love and care for this February 14th. 
About Yin Yang Mist
Yin Yang Mist is a remedy for relationships, designed to heal conflict, forgive past hurt, encourage communication, connection, affection and sensuality. 
It is a wonderful Mist for celebrations, ceremonies, weddings, connection, romance, healing of family trauma and conflicts.
Sandalwood, Myrrh and Frankincense oils are included for grounding and creating a calm atmosphere. Clove, Cardamon and Golden Rod oils are amazing for reconnection, romance, bonding and a gorgeous uplifting spicy scent. 
Dagger Hakea flower essence enhances forgiveness of old resentments and Red Helmet Orchid is beautiful for bonding. Bluebell and Wedding Bush create joy and gratitude for the present and allow any fear of lack of love to dissipate.
Spray this gorgeous mist around your family spaces, bedroom and auras with love and healing for the best results.
Yin Yang is ideal for: 
Relationships  
Communication 
Bonding
Forgiveness  
Grounding
Yin Yang Mist Ingredients:
Moon-infused filtered water, alcohol, Colloidal Silver, Witchhazel.         
Essential oils - Sandalwood, Frankincense, Myrrh, Clove, Cardamon, Bergamot, Rose, White Lotus, Goldenrod. 
Flower Essences - Bluebell, Boab, Bottlebrush, Dagger Hakea, Flannel Flower, Gardenia, Jasmine, Old Man Banksia, Red Helmet Orchid, Wedding Bush, Wisteria.      
Gem Essences/infusions - Amethyst, Black Tourmaline, Citrine, Clear Quartz, Moonstone, Rose Quartz, Selenite, Smoky Quartz.
Suggested use- Spray around aura, chakras and feet. Breathe deeply. Pause. Use affirmation. Repeat regularly.
More About Magick Mists
Magick Mists release courage to find our gifts here on earth and to move forward in a positive way to realise our full potential. 
They help us to remember who we really are and break the cycle of ancestral damage that is holding us back.
Fear can become love, and darkness can become light. We can fulfill our destiny.